Jimi Hendrix was my big hero when I was a teenager ....

on january 22nd 1969 I saw him twice in concert and he had a huge impact on me ... (read a short description of an Univbes article I wrote)

O

---

...I played in small clubs and at big festivals using all kind of names like "Little String" or "Rudy Kronfuss Band"...

...to finally thank Jimi for all he did for me I decided to write and dedicate three entire CDs to him which are called: "...AND SAY HELLO TO JAMES" , "...AND SEND MY LOVE TO JAMES". and "...AND PASS IT ON TO JAMES".

On "RUDY KRONFUSS PLAYS JIMI HENDRIX" and "RUDY KRONFUSS PLAYS JIMI HENDRIX VOL.2" I tried to restore unfinished songs of Jimi for the first time, like "Valleys of Neptune","Heaven has no sorrow","Gypsy blood","Send my love to Linda" and "Scorpio woman".

Today I play concerts using the name "The Rudy Kronfuss Experience" and I have a "special wireless phone connection" with him that seems to have been forever.

......so I played on many occasions with different bands the songs of this genius...


...he was and will always be a teacher for me and an inspiration on the guitar....


. ...here we are backstage at the Black and White Hendrix tribute festival.meeting some old friends of Jimi that are no more here with us...


...I always tried to communicate the spiritual side of Jimi at tribute concerts and we played his "rare" songs as well not only the "hits"..

... we tried to bring mainly Jimi's musical talent to the audience not so much his showmanship as a performer...

...later I used my experience with Jimi's music in other musical situations and I wrote arrangements of his music of all kinds. I am especially proud of a medley around Voodoo Child Slight Return (Slight Return Medley) which is written for saxophone quartet, because it was the first time that Jimi's music was played at the (classical) Concert Hall (concertgebouw) of Amsterdam / Holland.
CLICK ON THE ARTICLE BELOW TO SEE IT BIGGER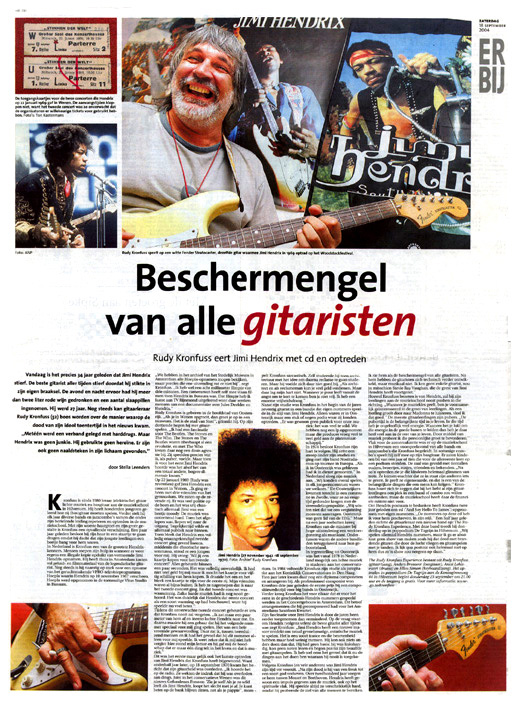 READ THE ENGLISH TRANSLATION